5" Core Drill Bit $ 230
Silver Series. Fast conrete drilling.
BlueFlag
5" Core Drill Bit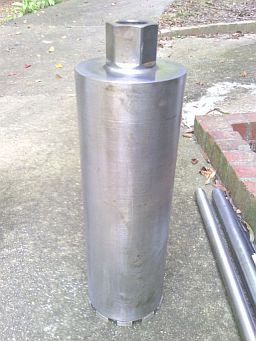 5" Core Drill Bit. Wet Use only. 1 1/4" x 7 tpi hub thread. Laser welded 10 mm diamond teeth segments. Cuts Reinforced concrete, brick, block and asphalt. Full 5" OD. American Made.
Category:
tools
Product #:
B00CCXL4NA
Paypal, Cash, Visa, MC $

230.00

(Sale ends ) Condition:

New
Last year 2019...
we have cored more than 1025 5" core bore holes in more than 46 projects around NC and SC. Our 5" core bit cut right through in reinforced concrete like a hot knife through butter. We do it every year. This 10mm diamond embedded, rough and tough 5" core bit has an 1 1/4" x 7 tpi hub thread.
Picture 2 is a 5" concrete core cut from a concrete floor in Asheville NC at the Grove Park Inn. Heck of a peice of rebar. Our Silver series 5" core drill bit never gave up, it cut this core and made 10 more that day. Our 5" core bit cuts reinforced concrete with any size rebar.
Average close to 40 holes drilled with this core drill bit with medium to lite weight concrete and more through brick or block structures.